Do you feel like the weeks are endless? Don't know where to begin when it comes to preparing for your post-quarantine life?
If the answer is yes to one of the above questions, you're in the right place because we're going to talk about preparing for that post-quarantine life. Like any new chapter it requires some preparation.
We're going to give you some advice for a smoother transition 😊
Well protected
Since the beginning of this global health crisis, it has been important to apply measures to limit the transmission of the virus. Think of ourselves, our family and others. As you know, emerging from this confinement doesn't mean returning to our former life altogether, but rather learning to live with the virus. Therefore, let's not forget the protective measures!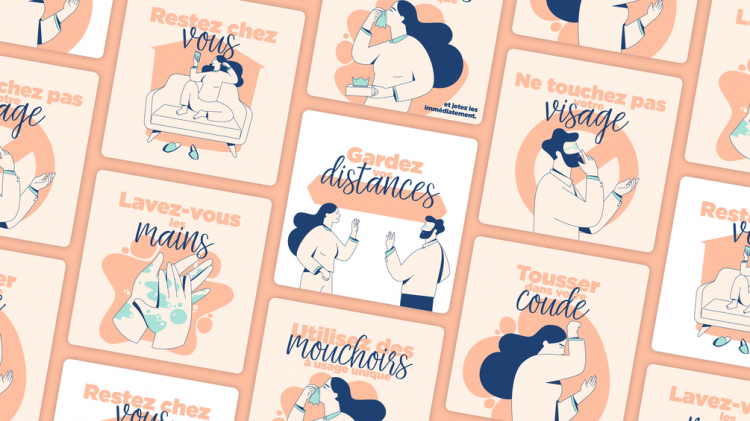 Taking care of yourself
Hair salons or spas still closed? This doesn't mean that we should forget our well-being and those moments of pure joy to treat ourselves. Take this opportunity to prepare your skin, your hair or your style to turn heads when you go back to a "normal" life. You're probably thinking that you let yourself go during the confinement and that you're apprehending your first outing? Don't worry, it's not too late!
Take care of your morale

This is an opportunity to take care of yourself
The end of confinement is fast approaching and you're in dire need of something new? Treat yourself with something you've always dreamed of : a dress with floral prints or a KANEVAS bag to feel confident at the end of the confinement.
Take care of your body
One of the major advantages of confinement is that you can finally find the time to cook for yourself. This is the perfect time to (re)learn how to eat well by choosing healthy and balanced foods. With the reopening of the restaurants, you surely think that this all will be useless! Think again, having a healthy lifestyle doesn't mean that we can't indulge in a few pleasures (Here's looking at you Cookie Bluff !!).Also, it's important to get back into a healthy lifestyle by going to bed early on a regular basis even if you have nothing planned the next day. This will prepare you for post-confinement and when you go back to work.
Plan your professional life
The end of confinement is coming soon and you'll be returning to work. Plan it, so you can anticipate the situation and adapt to your new working conditions :
Contact your boss to find out what security measures will be in place. It is important to remember that effective communication calms minds and dispels any doubts.

Take inspiration from confinement to plan and organize more efficiently. Indeed, going back to work is an opportunity to review the working methods that could be beneficial to the entire company.


Refocus on your goals and priorities
We hope that these tips will help you prepare to go back to a "normal" life in this post-quarantine world that we now live in. Don't forget to stay in touch with your loved ones, the reunion will be beautiful!
Everything will be alright 🌈